News
Free Star Gazing for Guests!
17 April 2016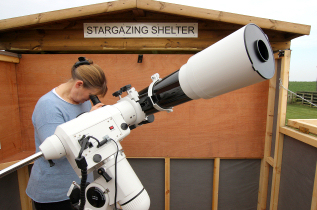 Tranquil, rural Northumberland is one of the best places in Europe to see the stars at night, due to the absence of light pollution.
The Northumberland coast in particular is renowned as being one of the best spots outside Norway to catch a glimpse of the spectacular Aurora Borealis.
We now offer a special stargazing observatory which is available to all our guests at no extra charge. The observatory, which is located at Outchester, has an automated sliding roof and a resident, state-of-the-art 120mm Pro Refractor telescope.
This amazing telescope, which can be programmed to locate specific stars and galaxies, is accompanied by full instructions and is recommended for adults only.
We also provide two additional telescopes for guests to use at no extra charge. Our 200mm Dobsonian and 60 Pentaflex telescopes are perfect for first time star gazers and easy to use.
A booking system operates for the observatory and the telescopes. Please enquire on arrival or at the time of booking your stay with us.